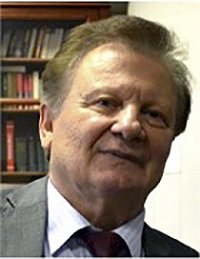 Department of translation theory and methodology
Doctor of Philosophy, professor
At the Higher School of Translation and Interpreting since 2006. 
Graduated from the Institute of Oriental Languages at Lomonosov Moscow State University with a major in Arabic language and literature with a qualification in oriental studies.
Candidate of philological sciences since 1973, specialty 10.02.20 - Comparative-Historical, Typological and Comparative Linguistics. Dissertation topic: The Verb System of the Algerian Arabic Dialect.
In 1986, thesis was successfully defended on the topic of
 The Dialect of Typology and Literary Grammatical Structures of Modern Arabic, 
specialty 10.02.20 " Comparative-historical, typological and comparative linguistics (philology sciences)".
Lecture courses: "The Theory of Oral Communication", "General Hermeneutics and a Hermeneutic Approach to Translation", "Introduction to Linguistics", "The Theory and Methodology of Translation"
Research Interests: general, comparative-typological and historical linguistics, theoretical grammar, stylistics, dialectology, sociolinguistics and intercultural communication; history, theory and methodology of translation, etc.
https://istina.msu.ru/profile/Mishkurov/
Distinguished worker of higher education in the Russian Federation
In honor of Alexander Pushkin's 200th birthday, was awarded the gold medal of the creative unions of the Russian Federation for contributions to science and culture.
Awarded the order of merit and medals of the USSR and Russian Federation.